25May
Modern Office Design Tips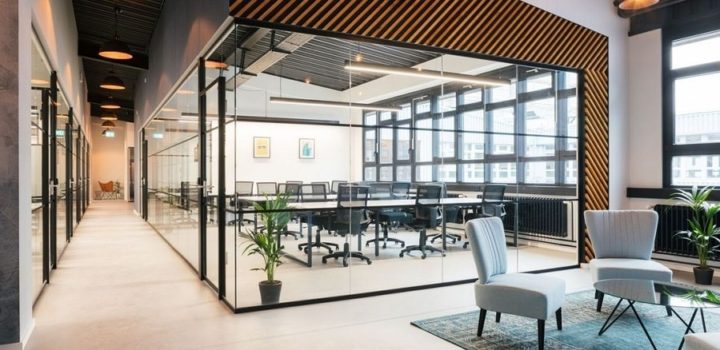 If you are looking to build your office, or refurbish an existing one, it can be a little difficult to know where to start with it all. You may have a specific look in mind, in keeping with your branding, for example. But there are a variety of modern office styles to choose from, and that is before you even take into account making the office a place that is conducive to productivity.
However, thinking about making some improvements around the office, or starting from scratch, is a step in and of itself. It is important to be proud of where you work, and make sure that your team is as well.
We all know that the office divides and beige walls are a thing of the past. But how can you create a really creative space that is unique and keeps your team interested? You may have a Google-style budget, where breakout spaces and making the office cool and fun is a priority. However, we know this isn't going to be a reality for everyone, but they can be fun to take some ideas from, in order to create an office space that works for you and your team. If you are looking to create a really modern office space, that boosts productivity and is a great place to work, then here are some ideas to get you started.
Open Space
No matter how small the space is, you can make it look much bigger and more spacious by opening it all up. This could mean knocking down some office partitions, taking down individual desk spaces or office cubes, and even rearranging the desk layout. This will create a much more open-plan space, but also allow for more communication within teams, and more space to chat and collaborate. This can help you have a much more efficient workforce, as it can create a space that is much more motivating and gives your team space to create.
Keep On-Brand
When you think of your office, you need to also remember who you work for and what you are all there to do. So having your branding play a part in this is really key. A lot of modern office spaces choose their brand colors to have across their office, and even incorporate specific logos, keywords, or symbols that represent what you do. You may need to get some custom paints in for this, which is where someone like BLP Mobile Paints could help. But branding the office is a good idea, as it creates some interest visually, and reminds everyone of where they are and what they are doing. It can be great for productivity.
Organisation Is Key
You might have a lot of ideas for the office, but if you go overboard, then it can really look disorganized and messy. Use the space that you have to create some storage, so that clutter can be hidden away. No matter the size of the office space that you have, it will always look more messy if there is clutter and something on every single work surface. Create organization and it will help people to work, and help them to keep it tidy too.