01Jun
Creating a Home Office in Your Apartment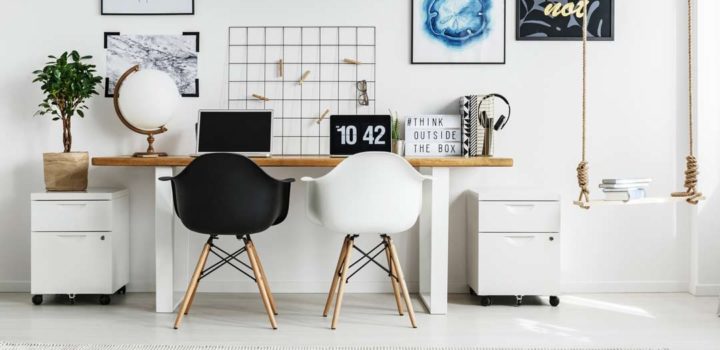 With more people freelancing, consulting, and working hybrid for home, the need for a great at-home office has skyrocketed. In fact, many apartments for rent will even highlight areas within the apartment that have the potential for an office. 
If working from home during the last few years has given you pause for thought, and it is something you want to do more of – then an office space is a must. 
Here are some tips to help you plan where your office might go – and how much space you really need. 
Location
You probably already know where you will work best, it might be in silence, and it might really be at the kitchen table. 
But the location of your office can make a big impact on how productive you can be. For example, if you have children and you need to focus – it can be tricky when they can see you! 
Evaluate your apartment or the room you want to work in, and see what the possibilities are to make space for a desk. 
Style
Often one of the biggest issues with getting the style you want is the surrounding aesthetic and your budget. Unlike in the office, you can choose any style of desk you want, any color of the chair – and exactly where you will hang your headphones. 
So think carefully about what style you think will help you to achieve your best work. 
Furniture
Do you need a huge chair and a several meter long desk? Or could you work perfectly well with a desk that is a little wider than your laptop and a chair that is padded and comfortable but doesn't take up much room? 
Think outside the box a bit when it comes to your desk because often, a table can be cheaper and offer the space you actually need. 
Door or Not…
This decision can be very difficult for those who have small children that they need to work around. But it is most often that you get the best work and some focused time when you are allowed to close the door. 
When we close the door to work, this also has some psychological benefits too. Once the door is closed, our brains take that as the sign it's time to work, which is a great booster for productivity. 
Must-Haves
What do you need to make sure you can do your work successfully? Often we think we need a lot of products, but a notebook and a pen are more than enough. The basics for any work at home environment are: 
A desk

Chair

Available plugs

A place to hang headphones

Some stationery 

Printer
These can get you started, and then you can purchase other items that you require to be able to do your work. 
Personalization
Your whole house probably has lashings of your personality – with the other people who share the space mixed in too. Keep your desk space about you and what you like. 
If you are struggling to find time to create the space and to keep on top of your business, here are a few places you can make a dent: Tasks Freelancer Should Outsource | Nell Gavin