08Oct
Tips for Those Who Want to Travel and Work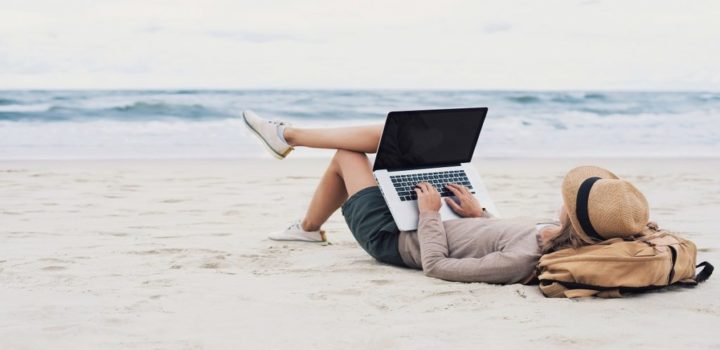 The era of the freelancer, gig economy and the digital nomad. It has been a fantastic experience for many to pack up their laptop and work from any location in the world. It doesn't work for all lifestyles, so before planning on travelling around the world for a year – consider if your life can accommodate those changes.
If they can and you are just itching to get started there here are some tips and tools to help you get started:
Mindset
Your mindset is going to play a massive part in being able to make this work. You need to be pretty on top of your motivation and have strong organisational skills. You can build both of them up over time, but it helps if you have some foundations in advance. You should also consider that when you are travelling, you may have commitments in other timezones – and you are going to need to be awake at strange hours to take those calls.
Preparation
If you currently have a full-time job, then you are going to need to work out the moment that you can leave this and spread your wings. You are looking to have enough banked to help you cover your bills and help you travel for about 6 months – as well as have a side hustle income. Setting up multiple income streams is one of the things that is going to make a difference. Smaller revenue mounts up pretty quickly.
Tools
If you are on a flight for 24 hours you aren't going to be able to check in on everything like you might want to. So if you have things automated in advance then let the tools manage everything for you – you can take a nap instead.
Social media automation – Buffer, Planoly, SocialBee, MissingLettr are all great for having all of your campaigns running, hands-off.
Email Marketing – as part of your preparation you probably have a funnel running, tools to help with that are ConvertKit, OptinMonster, MailChimp and GetResponse.
Remote work flow – You need to access your work anywhere, so SimplyClouds, Slack, and GoogleDocs are ideal options.
Planning – If you are managing a team, or just a lot of moving parts in your work the check out Asana, Zoho, Trello, and Evernote to help you keep on track.
Support
While you are out on the road, it might be in your best interest to have someone on your side. A virtual assistant can make a big difference in how much you can take on and do while you manage. A combination of the tools above will help them to manage all of your projects and social media while you can't.
Gear
Most digital nomads tend to work in the same space, and some items are just helpful, and if you don't have already, you should consider:
Laptop – as light as possible but will still with a lot of functionality
Camera – content creation needs images as well as words
Headphones – to block out excessive noise
HDD – because no one ever regrets backing something up
Powerbanks and plenty of cables
Finally, give all of the tools a test run before you head out on your big adventure – and have fun!