04Jan
How to Make Room for a Home Office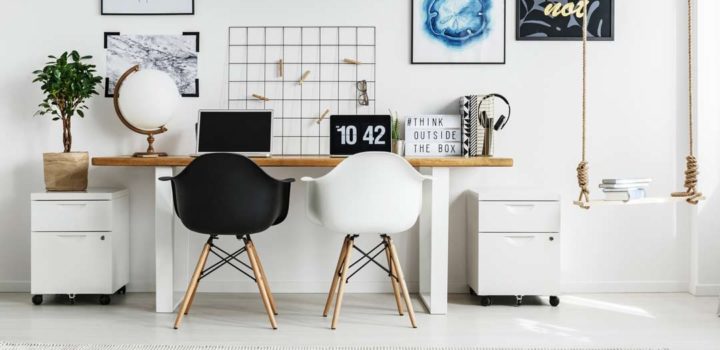 A home office can be a great thing to have when your job requires a bit of work from home or perhaps it's something that you're doing full-time. Making room for a home office can often be difficult if the space you have is limited. Here are some tips to make room for a home office.
Change a Room's Layout
The room's layout is one that's usually set when you first move into your home. You have the living room laid out a certain way because that's what your initial layout of the room set up as. You might though be utilizing the space in the wrong way, and instead, there could be other ways in which you can get better use out of the layout. Think about how you can adapt the space to create more room, particularly in rooms where you can make a home office without having it take over the whole purpose of the room.
Have Foldable Furniture
The furniture in a space can impact how well a room functions and if you're smart, you can save on space by the furniture you pick. Foldable furniture, like a folding chair, is useful to help pack away the home office element when it's not in use. A folding desk or something that looks like a side table but actually extends out into a working desk is just an example. The better you can be in picking furniture that's versatile, is good. So whether you've got property on Bird Streets or you're in an apartment in the city, even the smallest of rooms can be taken advantage of.
Invest in Storage
Storage is great to have, particularly when it comes to tight spaces. With hidden and exposed storage, everything has a home. So start thinking of what is currently lying around on the floor, perhaps being tripped on currently. Anything that's on the floor needs to find a more suitable home. By doing this, you create more floor space, which will make it easier to fit in a desk or work station. Try to build up storage above the ground and ideally attached to the walls. Floating shelves are very handy, and bookcases can usually make for a good place to put most things.
Less Is More
Less is more when it comes to the home office and knowing what you need as a workspace is useful. It can stop you from getting furniture that isn't needed and will only cause more discomfort than anything else. Always have the approach of using less furniture and going with minimal items that are functional and versatile in the space. Cut down on clutter and try to keep it as simple as possible.
Making room for a home office is something that the majority of homes can cater for. Try to adapt the space through small changes and invest in storage to help remove the fuss it can create. Have foldable furniture and be sparse with the amount of furniture you use in order to create the workspace.