04May
Dentistry as a Profession and as a Career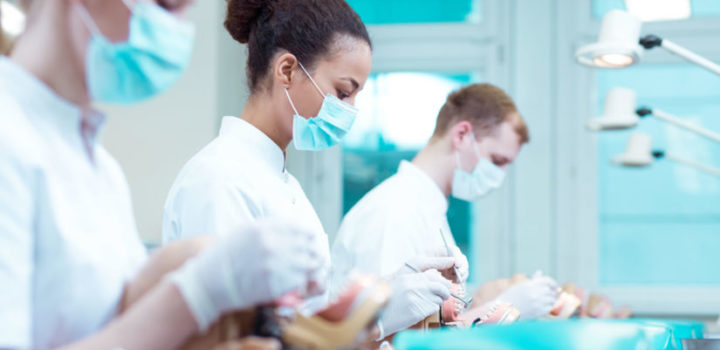 Those living amongst us who are of a more mature persuasion often reflect ruefully upon their childhood experiences with the dentist. If they are to be believed it was apparently one of the most scary aspects of growing up, with pain being inflicted almost gratuitously and in very generous measure as teeth were pushed and pulled, and often tugged out with instruments of a suspiciously unsurgical character.
If it's of any consolation to them the practice of dentistry in fact goes back much further than they do, having first been introduced to the Indus Valley civilization some nine thousand years ago. According to the American Dental Education Association (ADEA) it was written about by both Aristotle and Hippocrates, and when in 1723 the French surgeon Pierre Fauchard published his book The Surgeon Dentist the science was born.
An Expert Practice
Dentistry is practiced the world over and in the industrialized world at least citizens are encouraged to have their teeth checked on at least an annual basis. The large majority of dentists are private practitioners but whether work is provided by the state or individually by patients it is necessary for those learning the profession to study to a very high level, undergoing all the necessary education and training.
An example of a successful dental practice is DiscoverDentalHouston.com in Texas, where a large range of services is provided to patients and finance options offered for the benefit of patients who might struggle to settle unexpected bills. Many others offer similar services which reach far beyond the traditional filling and extraction and include such things as implants and restorative and cosmetic dentistry.
Dentistry today is a sophisticated and highly expert discipline, recognized and respected throughout the world of enterprise.
Dentistry as a Career Option
There are some 65 dental schools around the US recognized by the Commission on Dental Accreditation. Most programs take four years to complete and from there there are additional specialty areas available for those who wish to pursue them. Most students take out loans to finance their periods of study as fees can be substantial.
When a person has successfully qualified as a dentist they are able to set up their own business or practice, offering dental services to the general public. It is generally considered to be a well-paid and rewarding career for those who choose to go into it. Alternatively those relatively new to the business may prefer to join an existing team as an assistant or hygienist before striking out alone at a later date.
As setting up a home business goes being a dentist is not the easiest career path to follow, bearing in mind the demands of training and qualifying as well as the investment involved in purchasing and maintaining modern equipment. It is obviously only to be expected that anybody performing such a sensitive job should be trained to the highest level of professionalism and competence. Nevertheless it can be a rewarding and satisfying career for those who succeed at it.